What clients are saying
Testimonials
"Wonderful treatment Thank you. How lucky Yarmouth is to have you here practicing"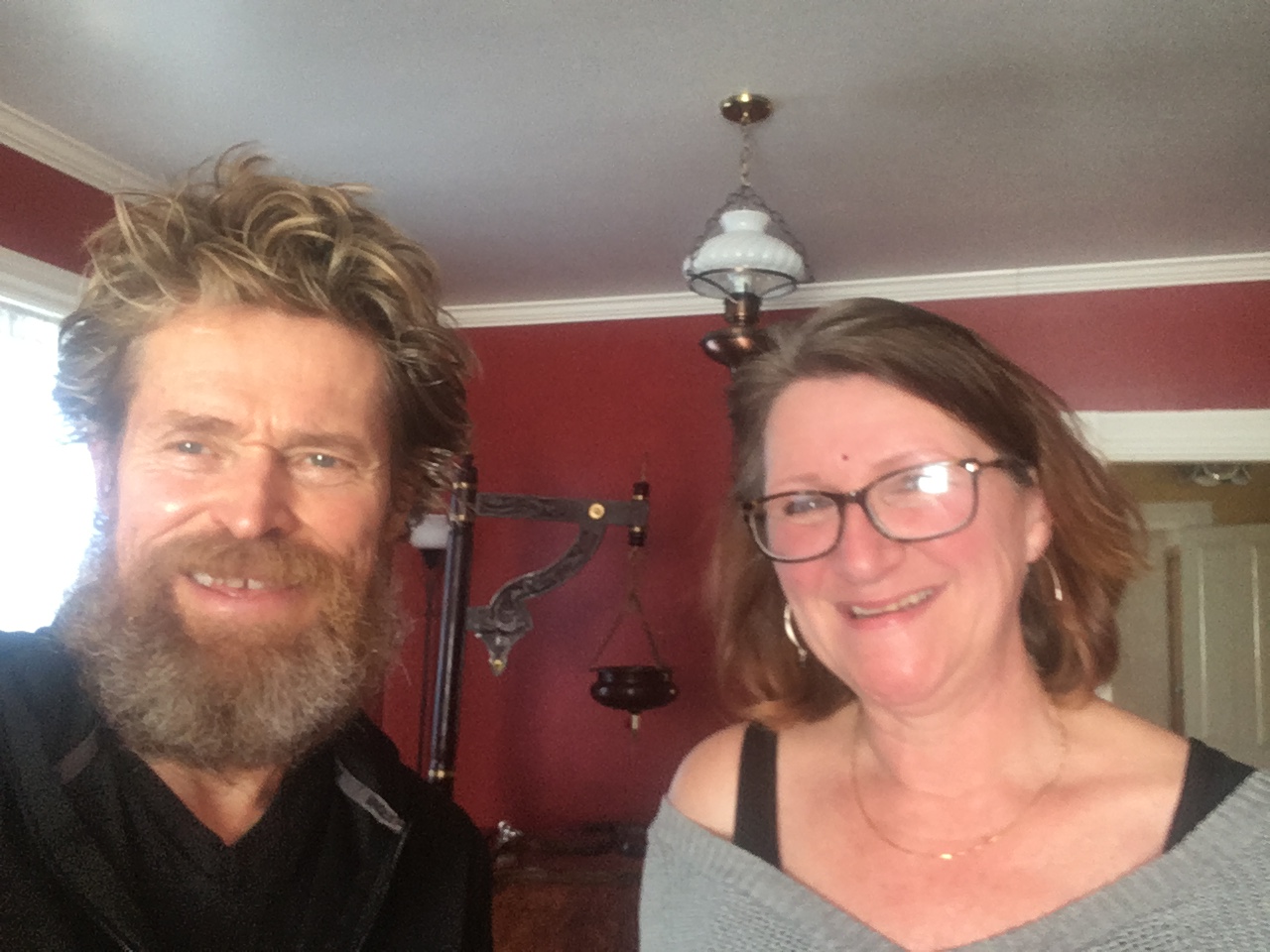 Hollywood director of The Witch and The Lighthouse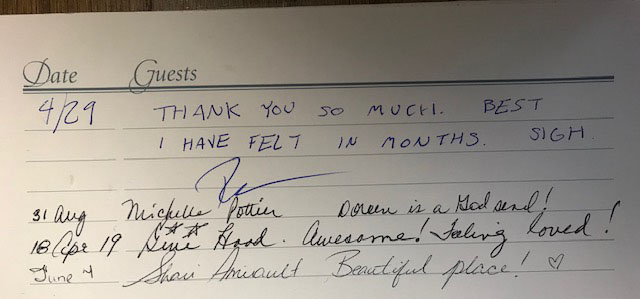 "Thank you so much. Best I have felt in months. Sigh." – Robert Eggers
Faculty, Educational Technology Nova Scotia Community College Institute of Technology Campus
"I just finished a 14 day Panchakarma treatment with Doreen a week ago and feel sooooo wonderful. During the treatment days, I felt so supported by Doreen. The highlight of my day was going to the clinic, having my treatments and talking with Doreen. Not only was she available to me then, but also asked me to email her in the mornings to tell me how my evening went and how I felt. She also texted me through the day to check-in with how I was doing. I never felt alone in it!
Everything was provided for me when I was there. I stayed at an AirBnB and didn't have a vehicle, so Doreen would drive me home or pick me up whenever I needed. She also had all my food made for me, so I could easily manage with what facilities I had. How much more cared for could you want!
Then there was the Panchakarma…I really felt good throughout the process. I had a few tired days and one where I didn't feel the best. But once that deep cleansing was over, I really felt fine and energetic. After the treatments, I feel lighter (I think I lost 8 lbs), less inflamed in my body, and really very settled in my mind. I also left there with all the information, oils, and recipes, I need to continue to bring myself into more balance.
Thank you so much Doreen for facilitating this journey for me and for being beside me every step of the way. I will definitely do this again!"
"In 2014, I was diagnosed with Multiple Sclerosis. Shortly after being diagnosed, I decided to seek treatment through Reflexology. I liked the fact that Reflexology is a natural treatment, rather than medications, and that studies have been done on the benefits of Reflexology for Multiple Sclerosis. Because of the Multiple Sclerosis, I was "dragging" my leg. A symptom of the disease that is similar to an exagerated limp.This caused my back to be out of alignment due to my compensating for the left sided weakness. My right ankle was swollen to almost twice it's normal size and constantly hurting. After my first treatment with Doreen, I began to feel better. I saw Doreen on a weekly basis for a specific period of time and found that I was constantly improving. My ankle was not as swollen. Once I reached a plateau with the Reflexology treatments, Doreen then began to treat me with Ayurveda and slowly began to change my ways of eating. This began with a cleanse as per her instructions and slowly changed my diet following her instructions. The results were great! I now have much more energy, my back is better, my ankle is practically normal (after being swollen for almost 3 years) and my "dragging" the leg has greatly improved. I can now do a days work and have found employment in a local boat building shop. I cannot say enough about what Doreen has done for me! Thank You Doreen!! You have improved my quality of life!!"
"My husband and I received Abhyanga, Swedana, Shirodhara and our dosha profile from Doreen. We were blown away by her nurturing energy and her knowledge of Ayurveda. The experiences where healing and much need. My skin and hair were left soft and glowing. If you aren't getting the results you want from our western medical system and want a holistic based results approach to healing, then you must see Doreen! You won't regret it. She is a master at Ayurveda and use to be a registered nurse so she understands both eastern and western medicine. What great value for the results we achieved. Thank you Doreen we will be back!"
Michelle Surette-Cottreau
"In May of 2007 I was involved in a car accident that left me with shocking pains in my head that began around November 2007. The Dr, then diagnosed me with shingles. I was then treated with Valtrex I.V for 1 week without relief. Due to the ineffectiveness of this drug, I was administered several other drugs to try and find relief, with no success. With the head pain becoming worse the Dr decided to send me to a neurologist who then diagnosed me with Trigeminal & Occipital Neuralgia , otherwise know as "Suicide Disease." The Neurologist prescribed Carbamenzapine thinking this would be effective. I continued with this drug for awhile again, without help. The Neurologist then referred me to the pain clinic. At the pain clinic I saw 2 neurosurgeons who gave me injections in the head, temple and above and below my eye. Again, this proved to be ineffective. I attended the pain clinic for approx 4-6 months. At this point I was told that due to the injections not working, it would not be beneficial for me to continue with this type of treatments. At this time I went back to my family Dr. who prescribed, over a period of time, many, many, different types of medications to help alleviate the pain. ( Over a period of 4 years I had been prescribed the following medications from several Physicians: Amitriptyline, Hydromorphcontin, Lyrica, Ciprolax, Zopiclone, Voltrex, Tylenol 3, Tramacet, Flexeril, Lamotrigine, Pregabalin, Tegratol, Hortriptyline, Carbamazepam, Medrol, Dilantin, Cymbalta, Cream of Lidocaine & Zovirax to apply to forehead, Injections of Triamcinolone & Marcaine, and IV therapy of Acyclovir & Zovirax) Being on many of these medications, I was unable to perform my daily duties at work, home, ie. could not drive, do groceries etc. and decided I would have to stop work for awhile. In Dec of 2011, I decided that in 2012 I would have to find another means of help so that I could cope with daily living. I heard of Reflexology through a family member and decided to give it a try. I started Reflexology treatments Jan 4 2012. At this time I had stopped all prescribed medications with exception to Cymbalta. I had treatments every 36-48 hours to begin, and then every Monday & Friday. No noticeable changes were felt until after my 6th treatment. At the 8th Reflexology treatment, I was feeling good and had energy which I had not previously had, however, there was still a pressure or heavy feeling in my head. Since my Reflexologist had been to India to Study Ayurveda, I decided to try an Ayurvedic treatment that is recommended for Neuralgia –Shirodhara- I started these Shirodhara treatments on Feb 7th and by my 3rd treatment, the heaviness/pressure was GONE and my head felt amazing! I could not believe that these natural treatments could make such a difference in my chronic Illness! After my first set of 7 Shirodhara treatments, on the 8th day I had to purge. On the 9th day I felt amazing, therefore realizing that these treatments are helping to give me my life back. Having stated this, I do still have relapses of extreme pain, these episodes do not happen in close succession like they used to and with shirodhara treatments, it makes them much less excrutiating! The duration of the pain also lasts a shorter amount of time, for example, my usual painful episodes would last approximately 2 weeks with medications and while on these medications I could do almost nothing, including remembering some conversations. I choose not to take any medications to lessen the pain so I will know if the Shirodhara treatments are working. While having Shirodhara treatments for the pain, I can still drive to my appointments and perform my daily duties, not have to take medications, and these painful episodes have only lasted approximately 2 days as compared to the 2 weeks!"
"On May 5, 2010 I was admitted to the Yarmouth Hospital with 2 herniated disc in my back. After months of medication, Physiotherapy and a cortisone injection, I was able to be relieved of one of my canes. I still had pain in my right leg and foot. In October 2011, I was still in pain and could not sleep at night due to the pain in my foot and right leg. My right foot was so swollen that I could not move my toes or even dry between my toes. I was told that arthritis was setting in and that there was not much more that could be done except more medication. This medication was so strong that I was always "doped up". On one of my trips to the Hospital a woman there asked me if I had tried Reflexology and she went on to tell me about Doreen Doucette and all of the positive results of her treatments. My reaction was, "I have tried everything, so I might as well try this – What can I lose"? In early November 2011, I went to see Doreen and after 3 sessions I found a very noticeable improvement. The pain in my leg and foot was gone, I was able to sleep and I was able to get rid of my "CANE"!! I have been going to see Doreen once a month since February 2012 and I am still pain free, no cane, no limp. I still have "dead nerves" in my right leg and foot but now, I can do most of what I could do before this happened. Thank you Doreen for bringing my life back to normal."
All treatments are BY APPOINTMENT ONLY. Doreen can be reached at (902) 749-8232. You can also find her on the Facebook page, "Eleanor Autumn House".